Vaccine fridge firm's Bill and Melinda Gates Foundation grant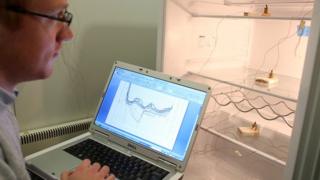 A firm whose fridges keep life-saving vaccines cool in some of the world's hottest places, has had a grant from billionaire philanthropist Bill Gates.
The Bill and Melinda Gates Foundation has given True Energy in Tywyn, Gwynedd, $100,000 (£67,000) to develop a portable cooler.
The Sure Chill fridge can stay at 4C for more than 10 days without power, and is used mainly in Africa.
True Energy said the portable vaccine cooler was for the remotest areas.
The firm's fridges are used to prevent disease in remote areas of hot countries where there is no reliable power supply.
They use an energy-storage material and has had to meet World Health Organisation (WHO) standards.
The large vaccine refrigerators are already in widespread use in the developing world, particularly in Haiti, south Sudan, Niger and Sierra Leone.
The firm said it had recently received orders totally $1m (£668,000) from UNICEF and other humanitarian agencies which will use the fridges in health clinics in Zimbabwe, Chad and Ethiopia.
Keith Bartlett, chief executive of True Energy, said 2013 looked set to be an exciting year.
"In addition to its contribution to world health, it looks as if the Sure Chill technology will attract major interest from other market sectors such as domestic refrigeration and the food and beverage industry," he said.
True Energy chairman Peter Saunders has invested more than £1m on developing the fridge technology.
"In his recent BBC Dimbleby lecture, Bill Gates described vaccines as a 'miracle tool', but stressed that there are still millions of children in the world who miss out," he said.
"I am thrilled that the Sure Chill technology is playing a significant role in the global fight against disease and especially delighted that it has received recognition and support from this influential organisation."
The Bill and Melinda Gates Foundation has already given away nearly $30bn of the couple's fortune and there are tens of billions more in the pipeline.
In January, Mr Gates talked about out his commitment to ridding the world of polio during the annual BBC Richard Dimbleby Lecture.