Chicken abattoir smells at Llangefni tackled by VION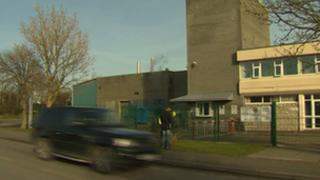 A chicken abattoir at Llangefni on Anglesey has installed odour control equipment after local residents complained to the Environment Agency.
The Environment Agency had asked Vion Food Group to conduct a detailed review after it confirmed the smell came from a section where feathers are removed.
It said the company had to make sure it does not damage the environment or cause problems for local people.
Vion declined to comment and another assessment is due next month.
Since 2009 the agency has received 300 complaints about the smell from individuals and businesses.
Ellen Parry who works near the plant said the smell was terrible, especially in the summer.
"We couldn't open the windows for some fresh air, we had to have fans on the desks and it was so bad we couldn't concentrate on what we were doing.
"We've tried everything (to get rid of it) but failed. It smelt like something had died and I felt sorry for people walking on the street trying to get to the shops."
Robin Evans said his sister had moved house because of the smell.
"It's a pity the company did not install this new equipment right from the beginning," he said.
Others said it depended on the way the wind was blowing.
"It was disgusting, you could smell it from down the street," said Elfed Jones.
David Edwell, from Environment Agency Wales said the agency ensures the company operates within the conditions of its environmental permit.
"The new equipment should lead to a big reduction in odours from the site and initial indications are that it's working well," he said.
"Since it was turned on we haven't received any complaints from local people about the smell."
Another assessment will be carried out is due next month to see whether any further work is required.
Anyone experiencing issues with odour from the site is asked to call the agency's 24-hour helpline on 0800 807060.