Drug taking perception needs to change, agency warns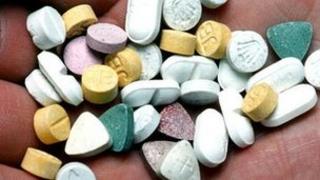 Drug users have been warned there is no way of knowing what they are taking after a number of deaths and injuries in north Wales and north west England.
One teenager on Anglesey died and another was left seriously ill possibly after taking a form of ecstasy known as green apples.
A further two incidents last week involved tablets called pink love.
Cais drug and alcohol agency said the perception of taking "recreational or party drugs" needs to change.
"People just don't see the dangers," said Cais' senior trainer Endaf Evans.
"There is a lot of stereotyping - people who take recreational or party drugs such as ecstasy do not see themselves in the same category as other drug users, such as those who use heroin for example - there's a false image.
Dangers
"But there is no way of telling what is in the tablets without taking them to the lab for analysis and they could be contaminated with something more dangerous - it's all to do with profit."
Telling users not to take drugs can often be counter productive he said adding that a "harm reduction" message and information is key.
"People don't see the dangers.... they don't realise for instance that it is dangerous to mix ecstasy with alcohol.
"Anyone who takes drugs should also make sure they are with someone responsible, so that if they suffer a reaction then they can ring 999.
"Not everyone is the same and the effect of taking something is not the same on different people.
Green apples
"Someone might not know they have an underlying health issue such as a heart murmur - and that's when people die."
The north west Wales incidents occurred after users took forms of ecstasy known as green apples and pink love.
Thomas Jones, 19, from Llangefni, died after apparently taking green apples on Saturday 2 February.
At the time North Wales Police said his death could be linked to another incident which left a Bangor man "extremely ill".
The warning followed one in January from Greater Manchester Police who said that a contaminated batch of ecstasy tablets could be circulating.
Gareth Ashton, 28, who died at Wigan Infirmary on 21 January, and 19-year-old Jordan Chambers, who died at Oldham Hospital on 20 January, were described as "apparently fit young men".
Then earlier this week a further warning was issued after two more people became ill in north west Wales.
At the time Dr Linda Dykes, a consultant in emergency medicine at Ysbyty Gwynedd, Bangor, said: "Users will never actually know what they are taking, its strength or whether or not it is contaminated.
"Every time you take a street drug, you are trusting your health, or indeed your life, to chance."
North Wales Police said there is no update to the situation and there is no confirmed link between the incidents in north west Wales and Wigan.