Melissa Mackenzie death: Seatbelts 'might have saved her'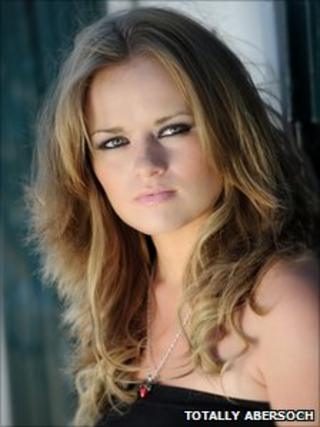 A 21-year-old woman who died in a car crash in Gwynedd would have survived if she had worn a seatbelt, an inquest has heard.
Melissa Mackenzie, of Pwllheli, lost control of a Vauxhall Corsa on newly laid chippings on the A499 at Penrhos in August 2011.
She was partially thrown out of the car window, suffering a crushing injury that led to her death.
Coroner Dewi Pritchard-Jones recorded a verdict of accidental death.
He said the body compartment of the car remained intact following the incident.
"If Miss Mackenzie had been wearing a seatbelt to keep her within this secure box then she wouldn't have suffered the injuries which led to her death," Mr Pritchard-Jones said.
"If I look at the last 12 months I have had four or five road traffic cases that were entirely survivable if the people concerned had been wearing seatbelts.
"Seatbelts do save lives."
The crash happened one night in August 2011 as Miss Mackenzie, a fashion store manageress who also did some modelling, drove herself home from a meal with her twin sister and her boyfriend.
Mr Pritchard-Jones said he believed she might have exceeded a 10mph speed limit going into a bend on the road.
"Having gone around the bend the car went out of control," he told the inquest.
"There would have been a thickness of chippings. It could be that the nearside wheels went on to that area of thicker loose chippings.
"The evidence isn't clear but that would possibly explain why the car went out of control."
The Corsa continued to slide on loose chippings, collided with a boulder, moving it, and turned over.
The hearing was told that there was no alcohol was in her blood.
Senior Gwynedd council engineer Peter Garlick said the road had not yet been swept when the accident happened.
After the hearing Miss Mackenzie's father Andrew Mackenzie said: "She was responsible, independent and ambitious. She was a high achiever."