Gwynedd council protest over pay rise for senior staff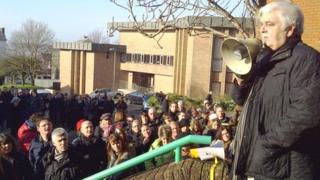 About 200 staff working for Gwynedd council staged a lunchtime walkout over pay increases of up to 7% for senior staff, according to a trade union.
Unison says its members are angry about the rises when they are "making sacrifices to save jobs and services".
Three of the most senior officials were given a rise of £5,839, while heads of service received from £1,042 to £5,094.
The council said the managers' pay was still comparatively low when compared to other local authorities.
Silyn Roberts, Unison's branch secretary for Gwynedd, said the rises were "grossly unfair and insulting" to council workers who have had a three-year pay freeze.
"I think our members are very annoyed because over the past 12 months the joint trade unions in Gwynedd have been negotiating a reduction in members' terms and conditions," he said.
"That was done with trade union support to plug up a £32m deficit in Gwynedd's budget. It seems to be the poor are giving to the rich."
He said staff had agreed to a day-and-a-half's unpaid leave to help balance the books which, if they changed their mind, would leave the council with a "£600,000 headache".
Pay policy
Gwynedd's three corporate directors - among the most senior managers in the local authority - will receive an increase of £5,839 from £83,121 to £88,960.
For the 11 other heads of service, the increases ranged from £1,042 to £5,094. For example, the heads of social services and education received an increase of £3,311 from £72,200 to £75,511.
The pay of the chief executive has not been affected and remains the same as it was in 2008, a maximum of £108,264.
The council said the increases relate to a pay policy it first established in 2009 when it was advised to "follow the practice of other authorities and link senior manager pay to an independent public sector benchmark".
A gap had opened up over the years, said the council, between actual pay and its contractual commitments.
Chief executive Harry Thomas said: "The facts demonstrate that Gwynedd council is not an overly-generous employer in relation to senior management when compared to other councils and other public sector employers.
"However, we do need to maintain reasonable levels of pay, to honour contractual commitments and adhere to the council's pay policy.
"The senior management costs per head in Gwynedd remain lower than most authorities in Wales."
The council said corporate directors were paid about £10,000 per year less than the average for similar sized or smaller authorities in Wales.
"All in all, we've had to bite the bullet and move on," added Mr Thomas.
Gwynedd council leader Dyfed Edwards told BBC Radio Wales the authority was contractually obliged to honour the pay rise agreed in 2009.
'Spiralling upwards'
He said he did not feel the pay was too high but that the "gap between the lowest paid and the highest paid is too great".
The councillor said there was a danger senior officers' pay "may be spiralling upwards due to competition by 22 local authorities".
He called for changes "to get out of this competition where if a neighbouring authority sets pay at 20% then what are we supposed to do?"
In Caerphilly, councillors voted last week to cut a pay rise for chief executive Anthony O'Sullivan from £27,000 to £5,000.
Caerphilly council held a special meeting to discuss the original pay award that would have seen Mr O'Sullivan receive £158,000 a year.
It caused protests by staff and trade unions, leading to an apology from Labour councillors on the authority.