Welsh Country Foods: Anglesey council says crisis meeting 'productive''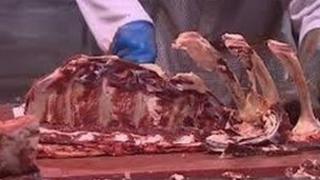 A meeting to discuss the future of a closure-threatened meat plant has been "productive," according to Anglesey council.
Up to 350 jobs are at risk at Welsh Country Foods after its owners announced on 11 January that it had lost its "key customer" Asda.
Council leader Bryan Owen said he was still hopeful of a solution.
Mr Owen said the supermarket is now reviewing its decision to stop buying lamb from the plant.
The closed meeting on Monday included representatives from the firm's Dutch parent company Vion.
Farming unions the FUW and NFU Cymru, Careers Wales, the Unite union, Wales TUC and Coleg Menai also took part.
"Welsh Country Foods is a major employer on Anglesey and losing nearly 350 jobs would be a hammer blow for the local economy," said Mr Owen, who chaired Monday's meeting at the Anglesey Business Centre in Llangefni.
"It would also have serious implications for the north Wales agricultural community," he added.
Mr Owen described the meeting as a "very productive one, providing partners with a better understanding of the situation facing Welsh Country Foods and a chance to air their views and discuss various ways in which they can support the plant and its staff".
Mr Owen added: "With Asda currently reviewing its decision, and the Welsh government influencing, we are hopeful that a solution can still be found which will save Welsh Country Foods.
"We will certainly all do everything in our power to ensure the right result."
He said: "I believe that other companies are looking at the plant so it's important that it is sold as a going concern."
Prys Morgan from Welsh Country Foods also said the meeting was "very positive".
"We've made an appeal to Asda, and we're waiting for that decision at the moment.
"We're in a 90-day consultation period and obviously we're looking at all options," he added.
Jamie Pritchard, a senior shop steward with union Unite at the plant said he was hopeful it can be saved with "public backing".
"There was a lot of positive news today with everyone coming together to see what we can do," he added.
Earlier this month the Eindhoven-based food group Vion confirmed that supplying Asda represents about 50% of business at the Gaerwen plant.
It has begun a 90-day consultation exercise with unions and workers on its future.
Since then there has also been a meeting between Vion and Asda to discuss the future of the plant.
Asda has said the decision was not taken lightly but was due to changing needs.
The Unite union has also pledged to work "strenuously" to see if a new business plan can be produced to save the threatened jobs.