Welsh Country Foods: Vion and Asda hold talks on future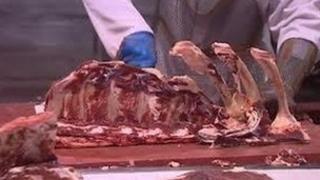 The owners of a lamb processing plant on Anglesey are meeting with supermarket chain Asda to discuss the future of the factory.
Last week Vion confirmed its Welsh Country Foods plant at Gaerwen could close with the loss of 350 jobs.
The announcement came after "key customer" Asda switched suppliers.
Vion said it wanted to explore "every opportunity" during a 90-day consultation and Thursday's meeting was "part of that process".
Eindhoven-based food group Vion confirmed supplying Asda represents about 50% of business at its Gaerwen plant.
It has begun a 90-day consultation exercise with unions and workers.
The Unite union has pledged to work "strenuously" to see if a new business plan can be produced to save the threatened jobs.
Asda has said the decision was not taken lightly but was due to changing needs.