Stranded walkers rescued from Tryfan by RAF Valley helicopter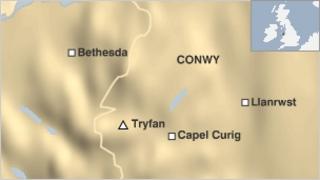 Two walkers have been rescued by a helicopter crew from a mountain in Snowdonia.
They were found clinging to a cliff in the cold, their backs against the cliff face, after raising the alarm on the 3,000ft (914m) Tryfan.
They were winched to safety by a crew from RAF Valley, who spotted their torchlight at dusk on Saturday.
The men, who were cold but unharmed, had missed a footpath 1,800ft (548m) up on the west face of the peak.