£8m car sales showrooms approved for Llandudno Junction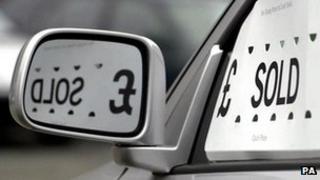 Councillors have approved plans for an £8m car sales plaza which will create up to 150 jobs, less than a month after they rejected the proposal.
Conwy councillors turned down the Llandudno Junction development last month, following concerns it would not create enough jobs.
However, it was approved on Wednesday after developers said it opened up a "breadth of job opportunities".
One local councillor claimed it would have a "negative" impact.
The development will be on the site of the old Hotpoint factory which closed in 1992, and will include three showrooms selling Audi, Skoda, Seat, VW and VW Commercial.
Conwy council's rules state that if councillors reject a plan against the advice of the authority's officers, the decision has to come back to the next meeting to be re-affirmed.
On Wednesday planning committee members reconsidered the application, and heard from the developers before changing their minds.
Richard Adams, speaking on behalf of the developers, told the committee: "This will be a state of the art facility.
"Eight million pounds is a significant development.
"We wanted the right location, and Llandudno Junction is the right location.
"The proposals open up a breadth of job opportunities - 150 people will be employed in a variety of roles."
'Open for business'
Cllr Ronnie Hughes, who holds the council's economic development portfolio, said: "A bird in the hand is worth two in the bush.
"We need to think about the jobs we are going to create for the kids in this area now.
"There are 750 young people unemployed round here at the moment - what are we going to say to them? There'll be jobs in a few years' time?
"We need to send the message out that Conwy is open for business."
Cllr Meirion Hughes, who represents that part of Llandudno Junction, opposed the plans, saying better uses could be found for the site which would also create more jobs.
He said: "There will be a profound and negative impact on the potential for economic growth if this goes ahead.
"Do not condemn Llandudno Junction to be yet another victim of a short-term decision."