Colwyn Bay Shore Thing makes new pier lottery bid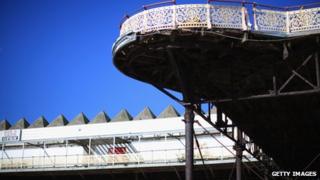 A new application for lottery money to restore Colwyn Bay's Grade ll listed pier is due to be submitted next month.
The latest plans for the pier, which once hosted acts such as Morecambe and Wise and Elvis Costello but closed in 2008, went on display on Monday.
It is the second time that Conwy council has bid for money from the Heritage Lottery Fund. An application for £4.9m was rejected in April 2012.
A dispute over who owns the pier goes to the High Court in London in April.
The latest lottery bid is due to be submitted in February.
If successful, it will mean repairs to the wooden decking and the metal structure underneath as well as a restaurant, shops and an education zone above.
The bid is being put together in partnership with a community company called Colwyn Bay Shore Thing, which has been running the week-long exhibition of the plans and asking people for their support.
Director Charlton Price said: "I'm very confident this new bid is going to succeed because we've done what was asked of us.
"After we were turned down first time, we went to Cardiff, we had a meeting with the Heritage Lottery Fund, and they told us what we were missing.
"We've put all that in place now, we've kept them informed throughout as we've been re-doing the application. So, I'm very confident."
He said that the project would also mean restoration of murals by the artists Eric Ravilious and Mary Adshead, which are part of the main pavilion.
He added: "They're very important paintings, they're the only remaining publicly exhibited murals by these two artists, so they are of very significant importance.
"I really do think it could be the pivot point in getting a grant."
In a separate development, a legal dispute over who owns the pier will now be decided at the High Court.
The former owner, Steve Hunt, was made bankrupt in 2008 in a row over unpaid business rates and council tax. He claims that after three years, the pier should have come back to him.
Conwy council says ownership transferred to the Crown Estate instead. It signed a deal to buy the pier from the Crown Estate in March 2012.
Steve Hunt took his claim to Cardiff County Court in August 2012, but a judge ruled the pier should go to Conwy council.
Steve Hunt has been given permission to appeal to the High Court.