WJ Williams: tributes as ex-Anglesey council leader dies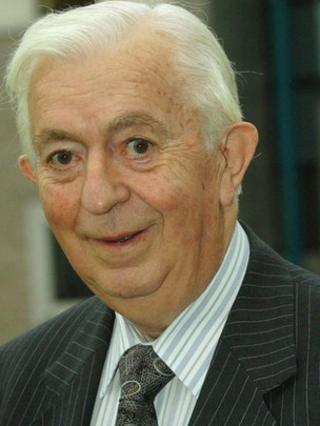 Tributes have been paid to WJ Williams, a former leader of Anglesey council described as a "great ambassador" for the island, who has died, aged 82.
Anglesey MP Albert Owen said Mr Williams served his community with distinction.
The retired head teacher and geography teacher was Anglesey council leader twice, most recently from June 2004 to May 2006.
Mr Williams received an MBE in 2005 for his work in public life.
Bryan Owen, the current council leader, said:"WJ was an Anglesey man through and through.
"He worked tirelessly for his patch and the island during his many years of service in local government."
Mr Williams loved sport, in particular football, and was a former referee, and also had a great interest in European and transport matters.
"He ended his time with the Isle of Anglesey County Council after a year as council chairman in 2007/08 - a fitting end to a fine career as one of Anglesey's most respected public servants.
"WJ was a great ambassador for Anglesey and will be truly missed," Bryan Owen added.
Mr Williams was a chairman or representative on over 20 committees both within and outside the council.
"WJ was a passionate and intelligent man who served his local community and the community of Anglesey with distinction," said Albert Owen.
'Wicked sense of humour'
"In his capacity as council leader I met with him to discuss many important issues facing Anglesey.
"He cared about the island and its people deeply," he added.
The MP said Mr Williams "articulated the case for Anglesey in a knowledgeable and sensible manner".
He was respected by senior ministers and civil servants, both in Cardiff Bay and Westminster, adding: "He had a wicked sense of humour and a wide range of interests.
"WJ was always good company and will be sadly missed," he added.