Conwy Tunnel £2m lighting works to last four weeks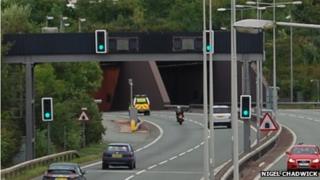 A £2m scheme is beginning to upgrade the Conwy Tunnel on the A55 in north Wales.
A new lighting system using LED technology will be put into the westbound tunnel in works which are expected to take four weeks.
Transport Minister Carl Sargeant said improving the reliability of the tunnel was integral to meeting the needs of the local economy,
A 40mph speed restriction will be in place while the work is carried out.
Three kilometres of support steelworks, four kilometres of cabling and 2,500 LED lamps will be installed.
The Welsh government says the new LED technology will provide and efficient method of lighting the tunnel, reducing power consumption and minimising the need for ongoing maintenance and unplanned closures.
Mr Sargeant said: "The Conwy Tunnel plays a vital role for the economy of north Wales.
"Ensuring that the A55 meets the needs of local businesses and residents in order to improve the local economy and regenerate the surrounding areas is paramount.
"Improving the reliability of Conwy Tunnel is integral to this aim."
Traffic flows
The improvements are being carried out now to minimise disruption as traffic flows are at their lowest, the Welsh government said.
The westbound tunnel will be closed with traffic running in contraflow in the eastbound side.
Initially, the eastbound tunnel will be closed overnight on 8 and 9 January with traffic to allow planned maintenance works to be carried out.
On Sunday, 13 January cylinders and studs will be put through the eastbound tunnel and traffic will be put into contraflow ready for the lighting works to start the following day.
The Welsh government works should be completed by Sunday, 10 February.
Opened by the Queen in 1991, the Conwy Tunnel is considered a feat of engineering as it carried the A55 under the Rover Conwy - the first of its kind in the UK.