Anglesey diaries presented to island archive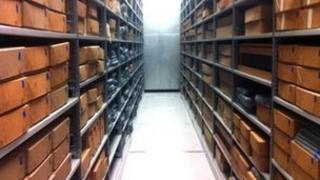 Around 120 diaries are being presented to Anglesey archives department as part of a year-long project to chronicle daily life on the island.
The 2012 diaries cover a wide range of topics including notes on nature, how much things cost and the weather at the Anglesey show.
Those taking part ranged from a man who has kept a diary for 53 years to a 22-year-old who took it up in 2012.
The diaries will be made available for future generations to study.
"The project began as part of a larger project on oral history on the island," said Bethan Huws-Jones, the lifelong learning co-ordinator on Anglesey.
"We thought it would be an ideal way to record a year in the history of the island, and we have had a good cross-section of people taking part.
"One or two have written in a naturalist way, others have made a note of items in the news, whilst others record how much things cost."
Keen diarist Ken Owen from Llanfechell has kept a diary for 53 years.
He wrote about his daily life and says once the bug has bitten it is difficult to stop writing.
"It takes hold of you and you look forward to making a note of what has happened in the world, or in your own area," he said.
Lowri Fon, 22, from Amlwch, took up the challenge for 2012 and said she learnt a lot from the experience.
"We've been looking at our family tree over the past couple of years and it would have been fantastic if my great-grandmother had taken part in something like this," she said.
"People in the future will now get to see what we've been up to."
She said looking back over the year she had been struck at how much had happened.
"People might say there's nothing to do on Anglesey, that it's boring, but it's not at all.
"This is proof there is plenty to do, there is fun to be had here."
The project is now being extended and anyone interested is urged to get in touch with the Anglesey archive.
As well as the more traditional format used in 2012 the 2013 diarists will be able to type out their thoughts, record them onto disk or write a blog.