Llandudno skinny dipper apologises after mayor complains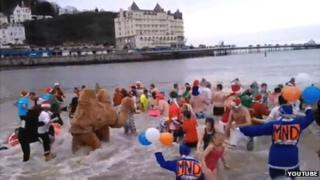 A 21-year-old student has apologised for skinny dipping during the Llandudno Boxing Day charity swim.
Mayor Myra Wigzell said two men spoiled the event for many in the large crowd off the resort's North Shore by swimming naked.
North Wales Police identified the student from CCTV footage and say he has written a letter of apology to the mayor and to the Lions Club organisers.
Officers say they are still trying to identify the second man involved.
Ms Wigzell said the actions of the pair were in "extremely bad taste" for a family event, with some people ushering children away in disgust.
"It really wasn't the sort of thing you wish to expose your children and grandchildren to in what was something that was supposed to be a pleasant event in the town," she told BBC Wales.
The Boxing Day dip in Llandudno has been taking place for around 20 years and dozens of swimmers brave the water to raise money for charity.
Police said on Friday that the student identified from CCTV footage had settled the matter with a "restorative resolution" by sending a letter of apology, adding that they were still trying to identify the second man involved.
The force said earlier that they would attend the next Boxing Day charity swim as a precaution.