Bangor mayor warns of accidents as drivers access shopping zone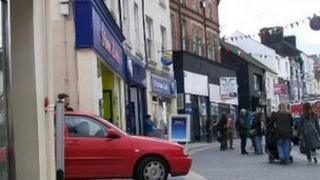 The mayor of Bangor has warned shoppers are at risk because drivers are using a pedestrian zone where broken bollards have not been replaced.
Bryn Hughes says it is just one of a number of traffic issues in the city centre which he has raised with Gwynedd council.
He suggested to BBC Wales that the council has no interest in tackling the problem.
But a Gwynedd council spokesman said it was monitoring the situation.
Mr Hughes said the High Street during the daytime was meant to be a designated "pedestrian zone" but traffic was using the street at all hours by some drivers abusing the system because of the broken bollards.
He believes is poses a real danger to shoppers even though the cars are not travelling at speed.
"Gwynedd council won't fix the bollards, and I feel it's an accident waiting to happen," he said.
"Someone will be injured because of this and I will be the first one to point the finger of responsibility at Gwynedd council when this happens."
Disabled parking
A Gwynedd council spokesperson said the High Street in Bangor is a pedestranised area during "designated hours".
"We regularly monitor this arrangement and will also discuss enforcement issues regarding the situation with the police," the spokesperson added.
Mr Hughes also complained about a lack of disabled parking claiming the council had six to seven bays near the city centre removed without consulting Bangor city council.
And he said blue badge holders also have less time to do their shopping when the pedestrianised zone is open to traffic.
"The High Street used to be open to traffic until 11am, but now it is only open until 10.00am which does not give badge holders enough time to get to the bank or whatever," he said.
Gareth Roberts, Gwynedd council's cabinet member for the environment, said all the council car parks in Bangor had designated parking bays for blue badge holders.
"For ease of use, these designated bays are located as close as possible to the entrance.
"In addition, work is currently being undertaken to look for suitable locations for approximately 15 additional parking bays for blue badge holders in area near the city's main shopping area.
"We hope that these new bays for blue badge holders will be in place in the coming months," he added.