Glyn Rhonwy quarry: More objections to Gwynedd hydroelectric power scheme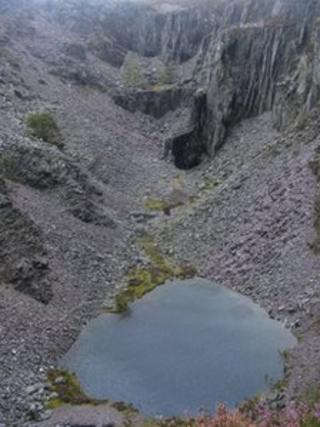 Conservationists claim a dam for a planned £100m hydroelectric scheme could spoil a beauty spot on the edge of Snowdonia National Park.
The Open Spaces Society has added to objections to the Glyn Rhonwy plan, warning it will encroach on common land and be an eyesore.
The developer, the Quarry Battery Company, has said it will do everything to minimise the impact.
Gwynedd council said no date has been set for the proposal to be discussed.
The Open Spaces Society has raised objections to the proposal, saying it is especially concerned that the site boundary takes in common land.
It said the applicants need to be aware that they cannot develop common land unless they offer land in exchange.
The society's general secretary Kate Ashbrook said: "We are dismayed that there is no mention of common land in the principal documents accompanying the application.
"We urge the council to reject this application as inappropriate in this area of natural beauty which is much enjoyed by walkers and climbers."
The proposed pump storage scheme is based on the same principle as Dinorwig's First Hydro plant in Llanberis.
Water there is pumped uphill to a reservoir when electricity is cheap and then released back down through a turbine to generate electricity to sell on when it is more expensive for suppliers to buy.
A dam would be built at the upper reservoir and the society says it is concerned about the effects of construction.
'Rugged slate tips'
The Snowdonia Society has already voiced its concerns about the effect the Glyn Rhonwy scheme on the wildlife, culture and heritage of the area.
It also said there are no details available on how the scheme will be connected to the grid and they fear extra pylons may have to be constructed locally.
The British Mountaineering Council (BMC) has also said it feels that the "scale and size of this development requires much more consideration".
The site has previously been the subject of planning applications for schemes ranging from a large ski dome to a mountain biking centre.
Dave Holmes, managing director of Quarry Battery Company, said: "The scheme really blends in with the local surrounds, in an area dominated by rugged slate tips and lakes.
"The scheme will create jobs, and is good for the environment. Both DECC (Department of Energy and Climate) and the Carbon Trust recognise the potential of pumped storage to reduce UK carbon emissions.
"There is a small amount of open access land lost to the scheme, but we are discussing a suitable replacement with local landowners."
A Gwynedd Council spokesperson said: "This application will be considered in accordance with the council's planning policies including consideration of all relevant consultation responses and representations received.
"Any physical development on common land will require separate Crown Estate consent and it will be the applicant's responsibility to seek this consent."