Anglesey fish farm grants 'weaknesses,' say auditors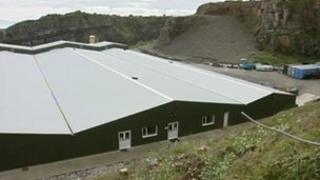 The way more than £4m in public money was put into an Anglesey fish farm before it went into administration is an example of weak grant procedures, say officials.
The Wales Audit Office said a report on how Welsh government grants were monitored at the hi-tech fishery at Penmon would be released early in 2013.
The site was set up in 2002 with an £840,000 grant but was still receiving cash as late as January to safeguard 30 jobs.
The fish farm's new owners have welcomed the audit investigation.
Around 1,000 tonnes of sea bass are produced commercially at the fish farm at Dinmor Quarry in Penmon.
Protected coastline
The Welsh government acknowledged in December last year that the operation was in financial difficulties, while Environment Agency Wales was monitoring its work.
The site's former owner, Selonda UK, was fined £50,000 in March after it admitted allowing the discharge of "trade effluent and chemicals" into a protected coastline.
By then the firm had gone into administration and the site sold to new owners.
Welsh ministers authorised a £40,000 grant to pay for oxygen to be pumped into the water for the estimated two million fish at the fishery while the deal was being done.
Last Wales, North Wales Conservative AM Antoinette Sandbach said there was public concern that a business "into which more than £4m of public funding was poured has been sold for less than £1.2m".
'Common weaknesses'
The Wales Audit Office (WAO) said the Penmon fishery was an example of "weaknesses" in the way grants were tracked.
A spokesman said: "Wales Audit Office staff have now completed their examination of the available evidence and provisional findings suggest that some of the common weaknesses in grants management and monitoring identified in the Auditor General's 2011 report on grants management in Wales were evident in the case of Penmon fish farm.
"Due to these initial findings and the pubic interest in this particular case, the auditor general has decided to publish a short report which we anticipate will be completed in the spring of 2013.
When she approved the £40,000 grant in January 2012, Enterprise Minister Edwina Hart said the new owners had been "made aware of their animal welfare and environmental obligations".
New owners Anglesey Aquaculture have said the expected WAO report raised a "very valid question" about how taxpayers' cash had been spent.
Managing director John Watters told the Daily Post: "For me, it's a very valid question what has happened to the public money that was put into this place.
"It was under previous management. We have found investors. It has rescued the operation from insolvency and secured employment for up to 30 people, not just direct employment on the farm."