Brazil football player offer for Llanfairpwll FC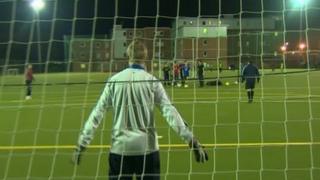 Footballers from Brazil are offering to play for Llanfairpwll FC after the Anglesey club hit the headlines in the soccer-loving nation.
South American media featured the team due to its long name as it is based in Llanfairpwllgwyngyllgogerychwyrndrobwllllantysiliogogogoch.
Player and webmaster Steve Smith said football fans have been in touch from Brazil and Chile among others.
With so many visiting the club website it now gives information in Portuguese.
"I've had a few people from Brazil saying they want to come over but they want us to pay their airfare," said the right-back.
"I don't think that is going to happen."
Mr Smith explained that the interest first started after a Portuguese newspaper wrote an article about Llanfairpwll FC as its full name is believed to be the longest in club football.
Then the story featured on TV channel in Brazil which, as a nation, has over 2.1m registered players and 11m unregistered, according to the FIFA website.
The country plays host to the 2014 FIFA World Cup, which Brazil has won five times.
Overseas fans
Meanwhile, Llanfairpwll FC, who are currently top of the Welsh Alliance League Division 2, face their own challenges closer to home.
The next game is a cup tie against local rivals Gaerwen on Saturday.
The number of hits on Llanfairpwll FC website has rocketed since last month when the club first started to pick up interest from football fans in south and central America.
Parts of the website has been translated into Portuguese for overseas fans of football.
And a TV crew from Brazil is said to be planning to visit the club in the New Year, according to Mr Smith.
Player Brendon Hogan: "It's quite unbelievable.
"I think everyone is getting to know us. We are doing well this season.
"Hopefully we can get better next season and get a wider fan base."
Asked about players from Brazil pulling on Llanfairpwll shirt, right-back Mr Hogan joked: "They are more than welcome to come - as long as they don't take my position."
Journalist Ricardo Acampora, who works for the BBC Brazilian service, said it was fascinating how this small club had captured the imagination of his fellow countrymen.
"I've never heard anything like this before especially, with all respect, with an obscure club," he said.
Mr Acampora, a fan of Liverpool and Rio de Janeiro club Flamengo, said he was aware of Brazilian expats starting up their own club in England a few years ago but nothing like this.