Bangor city centre dispersal order 'success'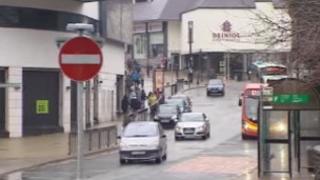 A clampdown criticised as an attempt to keep streets clear of teenagers is ending with only adults having received dispersal orders.
It had been widely reported that the crackdown in Bangor city centre, Gwynedd, was aimed at under-16s.
But police said that it was never aimed at children, and in the six months it has been in place all 61 orders were against adults.
Officers said it was a success and crime and anti-social behaviour fell.
The order comes to an end on Tuesday but is not being renewed, with police saying it is an option for the future.
The order was introduced to tackle anti-social behaviour such as groups congregating to drink or the public being "harassed, intimidated, alarmed or distressed".
But it attracted criticism from Children's Commissioner for Wales Keith Towler and civil liberties campaigners because it was feared children were being targeted.
It potentially banned under-16s from the city centre at night with the warning they must "not be in the vicinity between 9pm and 6am unless they are in the effective control of a parent or responsible adult aged 18 or over".
Mr Towler said it demonised and alienated youngsters, while civil liberties campaign group Big Brother Watch called it draconian.
However, North Wales Police said the order was never aimed at children and nobody under 16 had received one.
Supt Peter Newton said: "The whole aim of the dispersal order was to improve the lives of the local community and visitors to the city.
"There's a wide range of individuals that have been issued with the dispersal order notices and there's been 61 dispersal notices issued over the last six months and that ranges from people drinking in the street [to] acting in an anti-social manner.
"And I'm pleased to say that no children under the age of 16 had to be returned home to their parents."
'Victim of crime'
He said the order had been a "significant success" for Bangor with crime falling by nearly 30% and anti-social behaviour by almost a quarter while it was in place.
"Although we've made a decision not to extend it at this moment in time, it always remains an option for us to move forward and invoke a similar one in future."
Gwynedd councillor Gwynfor Edwards, whose Deiniol ward covers the city centre, said the combination of the order and more police community support officers on patrol had directly led to the drop in crime.
"The line about 16-year-olds was for their safety as much as anything else," he said.
"A young person is more likely to be a victim of crime than commit a crime.
"Someone who is 16 and out at night on a Friday or Saturday night in a city centre isn't safe."
He said the purpose of the order could have been better communicated by the police and the media.
John Wyn Williams, Gwynedd Council's cabinet member with responsibility for community safety, said: "We already know that crime rates show that Gwynedd is one of the safest places in England and Wales to live.
"But it is also pleasing to note that figures for the past six months show a significant reduction in crime figures and incidents of anti-social behaviour for the area covered by the dispersal order compared to the same period last year."