Rhyl man Anthony Parry jailed for drunk student rape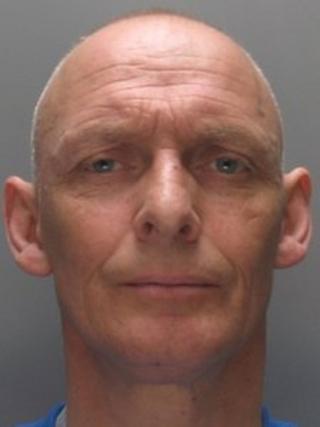 A man who raped a "naive, vulnerable" student who was intoxicated through drink and drugs has been jailed for six years by a judge in Caernarfon.
The crown court heard that Anthony Parry, 49, had rejected pleas to stop the attack, after his 19-year-old victim regained consciousness.
Parry, who now lives in Rhyl, carried out the assault at a house in Bangor.
He was convicted after a trial when a jury rejected claims that his victim had consented to sex.
Another man who supplied the student with drugs, 26-year-old Finbar Prayle, was also jailed by the court for two years.
Jailing the rapist, Judge Niclas Parry said the victim had been made "easy prey for a rapist".
'Lured for sex'
"On 16 April last year she let herself down badly. She consumed far too much alcohol and took drugs but she also had the misfortune of meeting you," he said.
"You lured her back to your house with one intention only, to take advantage of her, to have sex with her."
The court head that the student woke-up naked on a sofa with her attacker on top of her.
Parry, who has arthritis and is registered as disabled, claimed the teenager had agreed to sex.
"You stripped her of every stitch, that's how unconscious she was," said the judge.
"When she awoke to the horror of what you were doing to her she asked you to stop. This was an appalling incident."
Prayle had admitted supplying and having ecstasy, and possessing cannabis and an aerosol can containing pepper spray.