A55 north Wales: £3m to keep bottleneck open near Bangor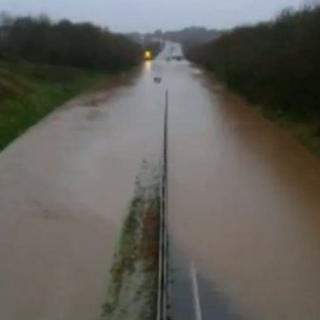 An extra £3m funding will be spent on part of the A55 closed by recent flooding in Gwynedd.
Drainage work will take place over three months on the dual carriageway between Tal y Bont and Abergwyngregyn.
The Welsh government called last month's 12-hour closure unacceptable and it has also closed after crashes, with 50-mile diversions.
However, one local town council, Llanfairfechan, said it was disappointed more would not be spent.
"The A55 plays a vital role for the economy of north Wales," said Transport Minister Carl Sargeant.
"The recent closure of the A55 due to flooding is unacceptable and we will be doing all that we can to avoid similar situations arising in the future.
The minister ordered an immediate review into why the trunk road was so badly affected by November's downpours.
Motorists were left stranded for hours, unable to make their way through the flash flooding that engulfed both carriageways.
Those not caught in the initial incident then faced a massive diversion that took them 50 miles through the Conwy Valley, which became gridlocked itself under the sheer weight of traffic.
Another part of the road, just over a mile away, was closed for 12 hours in August after a lorry overturned spilling 500 litres of diesel across both carriageways. Repairs to the central reservation following that accident are still underway.
The incidents have led to calls for improved contingency plans for those sections of the A55.
The chief executive of the Betsi Cadwaladr University Health Board wrote to the director general of the NHS in Wales last month warning that the flooding left communities "virtually isolated" and prevented ambulances reaching Bangor's main hospital, Ysbyty Gwynedd.
The new money being spent on the road by the Welsh government will prioritise drainage works, in a bid to avoid a repeat of the chaos caused by November's deluges.
"This additional money will help address the risk to the route, by enhancing the capacity of the existing infrastructure at known problem spots, whilst longer term work is planned," added Mr Sargeant.
The extra cash is being welcomed in the area, but some people remain concerned about the route.
"I had hoped Mr Sargeant would have announced that the whole stretch between Abergwyngregyn and Tai'r Meibion would be completely upgraded," said Gareth Jones, from Llanfairfechan Town Council.
"That was on the cards a while ago but it seems the Welsh government have pulled the plug on that.
"I'm disappointed with £3m to be honest - it might pay for some drainage work and such things, but it isn't a lot of money these days."