Cadwaladers ice cream moves from Criccieth to Carmarthenshire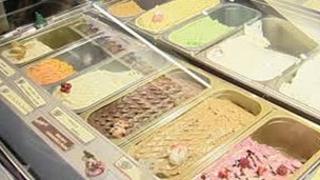 A long-established ice cream company is to move production from Gwynedd to Carmarthenshire.
Cadwaladers was established in Llanystumdwy near Criccieth in 1927, but is looking to expand.
Three people will lose their jobs but the firm hopes to create some new jobs at its new facility.
The company, which has 10 cafes, also aims to open up to five new premises annually for the next three years.
Cadwaladers managing director Diane Brierley said: "We are expanding the company and we need bigger premises.
"It is an exciting time in the sense that we are doing so well in such a difficult economic climate."
The company's administrative headquarters are in Cardiff.
Ms Brierly added that the ice cream would continue to be made to the secret recipe used since 1927, and that Welsh ingredients would continue to be used.
The company is also developing its coffee shop business, with two already in Cardiff, and another one about to open in Porthmadog.