Arthur Rowlands: Funeral of PC, 90, blinded on duty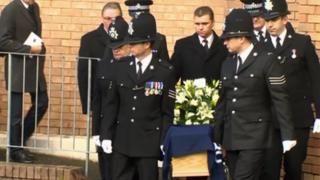 The funeral has been held of a 90-year-old policeman given the George Medal for bravery after he was blinded by a gunman more than half a century ago.
At the time Arthur Rowlands was a 39-year-old constable on duty near Machynlleth, Powys.
North Wales Police paid tribute, saying he would be sadly missed but never forgotten.
Police officers carried the coffin at Friday's packed service at Capel Seilo, Caernarfon.
Mr Rowlands, who had a succession of guide dogs, raised thousands of pounds for Guide Dogs for the Blind.
Winston Roddick, QC, a friend and recently-elected police commissioner for north Wales, described him as a "typical village bobby" - fearless, conscientious, proud, smart and effective.
He was well-known and appreciated by his community, he said.
Mr Rowlands had recalled the night of the attack in a BBC interview last year, saying he was not bitter.
He was on patrol on 2 August 1961 at Dyfi Bridge just outside Machynlleth when he spotted a burglar acting suspiciously near a terrace of houses.
'Highest regard'
Initially Robert Boynton made a getaway on a bike, but later he confronted the policeman, telling him "I'm going to kill you", before shooting him in the face.
A manhunt was launched, with officers travelling to mid Wales from Scotland Yard.
Boynton was caught and died in a hospital for the criminally insane in 1994 while serving a 32-year sentence.
Mr Rowlands and his family moved to Caernarfon after he was injured.
North Wales Police assistant chief constable Gareth Pritchard has said Mr Rowlands was held in the highest regard by all who knew him.
"(He was) still revered by police officers who had never met him because of his extraordinary bravery and courage after being shot whilst just carrying out the daily duties of a local 'beat bobby'."
Mr Pritchard said that despite his injuries Mr Rowlands returned to work for North Wales Police and was a source of knowledge for scores of officers before retiring in the 1980s.
"He will be sadly missed by us all but not forgotten," he added.
In an interview with the BBC last year Mr Rowlands said he had no regrets about joining the police force and had stopped feeling bitter towards his attacker years ago.