Llandudno hoteliers welcome Conwy council's UPVC compromise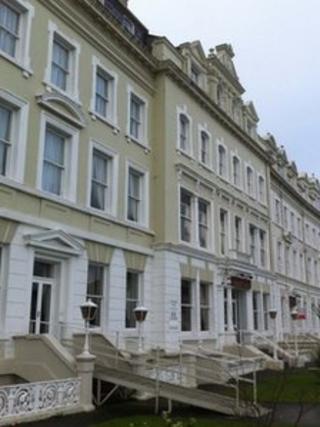 Hoteliers in Llandudno have welcomed news that they will not have to rip out UPVC windows fitted up to 30 years ago.
Plastic-framed windows are not allowed in many areas of the resort, to protect its historic Victorian character.
Earlier this year, Conwy County Borough Council wrote to hotel owners which had UPVC windows, warning them enforcement action could be taken.
The council has confirmed windows which have been in place for a long time will not have to be removed immediately.
A statement issued to hoteliers says that in listed buildings: "Where works have been carried out by previous owners, the local planning authority will liaise with you directly and the solution will be dealt with by discussion and negotiation.
"The council would aim for agreement with you to reinstate historic style windows at the next window change.
For buildings that are not listed, the statement says: "No action will be taken if your windows were installed and completed more than four years ago.
"Owners will be encouraged to change their windows to timber at the next window change."
The council says it is still keen to see UPVC windows removed in the long term, and may take enforcement action if no agreement can be reached.
Many hoteliers had criticised the council, accusing it of taking an "aggressive stance" claiming it was unfair to threaten action when UPVC windows had been in place for a long time.
The Aberconwy Conservative MP, Guto Bebb, organised meetings between businesses and the council to try and agree a way forward.
He said: "I'm pleased the council is moving in a more conciliatory manner.
"I hope we can move forward in a positive way, but also one which recognises the challenges facing businesses in the current economic climate."
Michael Thompson, who runs the Can y Bae hotel on Llandudno seafront, has plastic windows which he says were fitted in the 1980s.
He said: "We're delighted that we aren't looking at having to replace windows immediately.
"This announcement is a step in the right direction. We're cautiously optimistic that we can find a way forward.
"But there's still a lot of work to do.
"Our guests expect comfortable, draught-free, warm rooms.
"Any new windows need to be as energy efficient and sound-proof as the UPVC windows we've got."