Holyhead truck stop and logistics depot plan submitted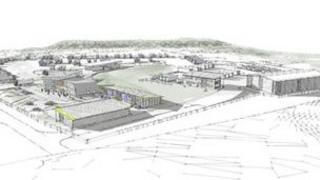 Plans for a truck stop for lorries using Holyhead on Anglesey have been put forward.
Conygar Investment Company PLC also wants to build a logistics depot at Parc Cybi.
It says the truck stop will ease overnight parking problems and ease congestion while the logistics depot will provide support services.
Anglesey council said the applications were likely to go before members early in the new year.
Chief executive Robert Ware said: "Holyhead is the second busiest ro/ro [roll on, roll off] port in the UK yet has always lacked the support services to the logistics industry which are available at other competing ports.
"This development will also complement our proposed warehousing and distribution facilities which we are now actively marketing," he said.
'Strong demand'
The truck stop will include parking for about 168 trailers, internal access roads and footways, a gatehouse, vehicle refuelling point and kiosk and a vehicle washing facility.
It will form part of a larger transport hub which will comprise management and welfare facilities and servicing support units.
Plans for the logistics depot which will include parking for about 56 heavy goods vehicle trailers and a workshop have also been put forward on a four acre (1.6 ha) site.
Mr Ware said plans for lorry parking would "greatly assist in easing congestion in and around the port at peak operating times".
Holyhead Port manager Captain Wyn Parry said it "very much welcomes" the application.
He said it sees the development of a truck stop facility close by as a significant positive development for the port, its customers, and the local community.
"The A55 is a major trans European traffic route and we believe there will be strong demand for this facility from our existing customer base and we very much hope that it may also attract others to use the Port of Holyhead."
Anglesey Council confirmed they had received Conygar's applications and they intended to carry out consultation before Christmas.
A spokesperson said it was likely the plans would go before the planning committee during the early part of the new year.