Bontnewydd bypass route discussed by Gwynedd council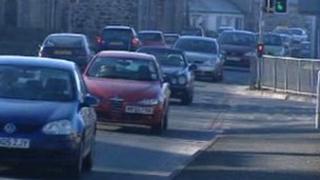 A controversial bypass plan to ease traffic problems near Caernarfon is to be discussed by Gwynedd council.
The new £85m road is aimed at relieving queues south of the town.
But opponents claim the planned route for the Bontnewydd bypass will devastate the villages of Bethel and Felinheli.
The Welsh government said the proposed "purple" route had the least impact on air quality, biodiversity, and heritage than alternative options.
Campaigners who opposed the route selected by the Welsh government have held public meetings to call for a re-think.
Gwynedd councillor for Bethel, Sion Jones, has argued that another route considered by officials during public consultations would provide better value for money and reduce accident risks.
Another objection put forward by the campaigners is that the proposed purple route will run for part of its stretch parallel to the already existing Felinheli bypass.
Bethel farmer Bleddyn Wynn-Jones has previously said the planned road would cut through his best agricultural fields.
He said: "There are already five roads running through my land and now they want to put another big one right through the best land. Why?"
"There is a good route - the yellow route - on the other side of me."
Gwynedd's communities scrutiny committee will meet on Tuesday to discuss the merits of the chosen bypass.