Festive hope for Bangor and Llandudno town traders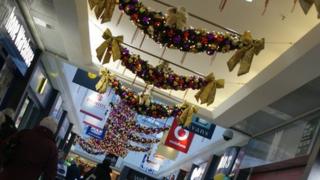 Last year in a series of reports from high streets in Wales, Crunch Christmas, we reported on how shops were faring in the battle with recession. We have returned to the same businesses to see what difference a year makes.
This time last year retailers in both Bangor and Llandudno reported mixed trading conditions, with many concerned about the future.
Sue Morris runs the Merrymoon gift shop in Llandudno with her husband Bryan.
A year ago she reported falling customer numbers and said that, in general, people were spending less than they used to.
Twelve months on, there have been changes.
"It's been a very difficult year. We had to move because the rent and business rates were so high where we were before.
'Cutting our cloth'
Ms Morris said three shops had closed and one has opened near where Merrymoon used to be in Upper Mostyn Street.
She said another problem was losing suppliers because some importers are struggling.
"When we moved we had to let two part-time people go too, which was hard.
"But we want to still be here when the recession ends so it's a matter of cutting our cloth accordingly."
John Wynn Jones is the chairman of the Balchder Bangor (Bangor Pride) group.
'Rejuvenate'
Last year he argued that the city was no worse than anywhere else as shops closed as retailers struggled.
Another 12 months has seen "some businesses open, and other close", he said.
"Asda has just opened in the town centre and we hope that will rejuvenate the top end of the high street.
"We are trying our best to attract businesses here.
"From what businesses are telling us people are reasonably positive, although things are difficult."
The Victoria Centre in Llandudno is home to 34 businesses.
'More positive'
Centre manager Sue Nash said traders had told her it had been a "so, so year".
"They tell me they are holding their own. Nobody is struggling and they are happy they haven't lost anything in that compared to the year before they've held on.
Ms Nash said the numbers of traders in the centre was the same as last year although one had expanded to larger premises.
"The town in general is looking more positive. Things are definitely going the right way," she added.
The Mostyn Estates is a significant property owner in Llandudno.
'Fairly positive'
Managing director Edward Hiller said he believed the town had survived quite well.
"We've been able to hold up our occupancy rate, they are at or better than this time last year.
"I'm fairly confident about the town's prospects."
"It's not easy, it's hard work but overall we've done extraordinarily well. The town feels vibrant."
In Bangor, Kate Jones is manager of the Deiniol Shopping Centre.
Last year she spoke as the chair of the business group which was part of Balchder Bangor.
As in Llandudno many businesses seem to be holding their own.
"It's been quite tough but people seem to be spending more in the past couple of weeks," she said.
'On the up'
"In the centre there is some interest in a couple of our empty units.
"Bangor itself is on the up too. The public realm work has improved the environment.
"Even the empty shops here look better than they did a couple of years ago after landlords put work into making them look presentable."
One casualty of the economic down-turn in Bangor was the Traed Bach (Little Feet) children's shoe shop.
It was opened in July 2011 and traded for just 14 months.
"Things gradually got worse and worse each month," said owner Emma Evans.
"There was no help for things like the rates, and although I was managing to cover costs there was nothing left.
Homework
"I was lucky enough to be offered a job back at my old place of work at a farmer's supply centre.
"I'm glad I tried though, and don't regret it at all.
"My advice to anyone who wants to have a go is to do their homework well.
"Don't take it for granted that it'll work out either, make sure you have a fall-back plan."
The last monthly sales figures available are for November.
The British Retail Consortium (BRC) described it as a "cautious month of wait and see".
BRC director general Stephen Robertson said it got off to a flying start, but sales fell off as the month progressed "suggesting customers are taking care not to spend too much too soon".