Conwy litter: Private patrols begin across county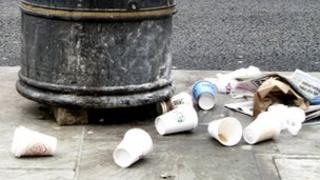 A private company will patrol the streets of Conwy in a bid to catch those who drop litter or fail to clear up after their dog.
Conwy council said it employed XFOR even though the county topped street cleanliness tables in Wales because residents were still concerned about litter.
Anyone caught faces a fine of £75.
Similar schemes are in place elsewhere in Wales including the Vale of Glamorgan and Blaenau Gwent.
Conwy council's own enforcement officers will continue their patrols and will also issue £75 fixed penalty notices.
A council spokesperson said there would be no cost to the authority or taxpayers for the private patrols as the firm took a percentage of the £75 fixed penalty fine as payment.
XFOR starts patrolling the borough on Monday, and wardens will be kitted out with cameras.
Councillor Mike Priestly, Conwy's cabinet member for environment, said people should be aware of the new patrols.
'Clean and attractive'
"Be warned - if you drop cigarette stubs, chewing gum, litter or you don't pick up after your dog you can expect a tap on the shoulder and a £75 fine," he said.
Everyone should take responsibility to keep Conwy "a clean and attractive place to live, work and visit", said councillor Philip Evans, Conwy council's cabinet member for regulation.
"Littering is not acceptable - put your litter in a bin or take it home with you," he said.
Blaenau Gwent council brought in a similar system in September last year.
A spokesperson for the authority said four enforcement officers provided by XFOR patrolled the streets there.
More than 1,000 fines were issued to people who dropped litter or failed to clear up dog mess in the county over the first six-month trial period.
A Blaenau Gwent council spokesperson said that 90% of the litter tickets issued were for "cigarette-related material, the other tickets mostly consist of food wrapping material".