Wylfa B: Hitachi takes over Horizon nuclear project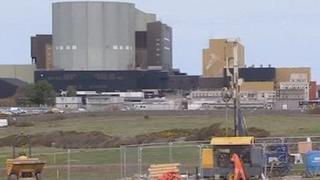 Hitachi has completed its purchase of a project to build nuclear power stations on Anglesey and in Gloucestershire.
The Japanese company will push ahead with plans to build two to three 1,300 megawatt nuclear power plants at both Wylfa and Oldbury.
It says it wants to have the first reactor operational by the mid 2020s.
The company also confirmed it is contributing a further £90,000 to support an apprentice training scheme on Anglesey.
The Cwmni Menai Prentis scheme is run by Coleg Menai college on Anglesey.
Hitachi announced its agreement to take over the Horizon project at the end of October.
"We're delighted that the deal has completed," said Horizon chief operating officer Alan Raymant.
"It secures the future of Horizon and represents a real economic opportunity for north Wales.
"Our project will be a multi-billion pound investment, creating around 6,000 construction jobs at peak, and 1,000 operational jobs when completed."
Horizon had been put on the market by German utilities RWE and E.ON.
In March the German-owned companies blamed the global economic crisis, developments in the nuclear industry in Germany and what they called the "significant ongoing costs" of running the Horizon joint venture for the decision to withdraw.