Bangor Twilight Football: Police and club tackle trouble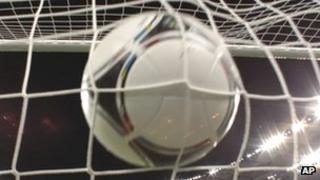 A football club is teaming up with police to try to kick anti-social behaviour among the young into touch.
North Wales Police and Bangor FC are joining forces for the Twilight Football project, which will run for 10 Saturdays.
It aims to give young people in the Bangor area an enjoyable alternative to hanging around street corners.
It follows research showing that most low-level crime by the young in the area takes place over the weekend.
PC Elwyn Williams, the Maesgeirchen community beat manager, said: "The project will provide young people with constructive as well as physically stimulating activity to engage in, which will reduce the potential of being drawn into incidences of anti-social behaviour at a peak time, in this case Saturdays."
Officers say they also hope it can help to break down barriers between police and young people, helping them to feel safer and more involved with their community.
"We'll all be in the same boat, as we'll be learning new skills at the same time as the young people we're training," said PC Williams.
"One police officer and three PCSOs (police community support officers) are training as level one football coaches, so that we can create a bridge which can be used over and over again."
"It's not only a great initiative and perfect opportunity to meet the local youngsters on a less formal basis - it's also a way of getting fit, developing new skills and creating a sense of pride in the local football team and community."
The scheme is run in conjunction with Pact (Police and Community Trust) and the Sports Wales Community Chest fund in Gwynedd.
Sessions are open to boys and girls, regardless of their ability, and start at noon on Saturday at Maesgeirchen multi-use games area in Penrhyn Avenue, which is near Maesgeirchen Social Club.