Pair rescued from spring tides at Traeth Dulais, Anglesey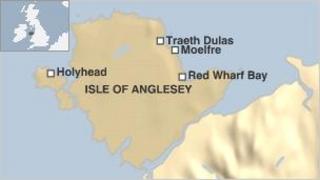 Holyhead coastguards have rescued two people cut off by spring tides on Anglesey.
Moelfre Coastguard rescue team was launched, along with lifeboats, police helicopter and RAF rescue helicopter after a call at 11.23 GMT on Saturday.
The stranded people gave their location as Red Wharf Bay, but were found about 40 minutes later at Traeth Dulas.
A Holyhead Coastguard spokeswoman said they were experiencing spring tides at the moment, but the pair were unharmed.
She added the tides were particularly high and the pair had been "fortunate".