Harlech's community-run swimming pool wins £5,000 prize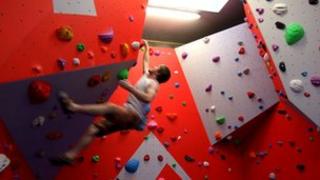 A Gwynedd swimming pool saved by a community group has won a £5,000 prize.
Campaigners secured funding to save Harlech pool after Gwynedd council said it could no longer afford to run it.
Since securing funding two years ago the not-for-profit company has developed a climbing wall and cafe.
The Morgan Foundation awards also recognised the Multiple Sclerosis Support Centre in Saltney, Flintshire, and Dawn Roberts of the Empowering Youth Foundation in Wrexham.
The Morgan Foundation was created in 2001 by Steve Morgan, founder of the housebuilding firm Redrow.
The foundation supports charities across north Wales, Merseyside, West Cheshire and north Shropshire.
Prize-winner were announced during a gala event in Chester on Thursday.
Harlech and Ardudwy Leisure Ltd's director Anwen Barry said she was "thrilled" their project had won a prize in the category for best entrepreneurial charity or social enterprise.
Local employer
"It was a brilliant evening, absolutely fantastic and there were so many other worth causes there and I really wondered whether we'd get anything," she said.
"The £5,000 prize will benefit the centre as we've developed a climbing wall so there's always new stuff we need. We always need money."
The centre employs 12 members of staff, four more than the eight employed there when it was run by Gwynedd council.
"Financially it's still tight - and we still need to increase the pool use," said Ms Barry.
"The climbing wall and cafe are doing well but we're thinking of new ways to attract people to the pool maybe with kayaking or water polo.
"We still need the support of local people to keep going," she added.
Another £5,000 prize winner from Wales was the Multiple Sclerosis Support Centre in Saltney, Flintshire, in the category for charity or social enterprise making best social contribution.
The centre was recognised for "offering support, therapies and helpful strategies to manage the symptoms of MS and other neurological conditions as effectively as possible in a happy, supportive and understanding environment".
The centre began in 1985 and has grown from a small volunteer-let charity to one with more than 300 members employing 12 staff and supported by around 25 volunteers.
Dawn Roberts of the Empowering Youth Foundation in Wrexham was highly commended in the the category for best individual entrepreneur working in a social enterprise or charity for her work in making golf more accessible to deprived youngsters.
Steve Morgan said he had been "heartened and humbled to meeting some truly exceptional people" during the judging process.
"At a time of economic uncertainty, stories of entrepreneurial success and social enterprise are even more meaningful and our aim is to give them the recognition they so deserve," he added.