Bala murder: Police presence up after Slovakian man killed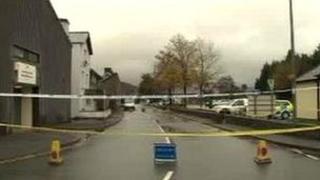 Police are putting on more patrols in Bala following the murder of a man in the Gwynedd town last Saturday.
Julius Hecko, 23, has been charged with killing fellow Slovakian, 42-year-old Branislav Gula.
Police said four other people arrested in connection with assisting an offender have been released on bail.
Insp Mark Armstrong said meetings were being set up with local groups to discuss any concerns.
He added there was a need to reassure and reach out to all parts of the community, particularly those from eastern Europe.
Insp Armstrong said additional high "visibility patrols" by community beat managers (CBMs), community support officers (CSOs) and special constables will take place in the town.
He said it was in addition to consultations with local councillors and other members of the local community "to ensure we are listening to all needs and concerns".
"By listening to and addressing such concerns, as well as increasing our patrols, we can hopefully allay some fears and reassure all the community," he said.
Feedback and information from the community is regularly assessed and staffing levels adapted accordingly, he added.
"I would emphasise that we will reach out to all groups within the community, particularly those from Eastern Europe to reassure that we are here for everyone and will address whatever concerns they have."
A police appeal for information has also been repeated.
"I am the territorial inspector for Bala, it is my patch and I know the vast majority of the community are law abiding and very decent people who are sickened by recent events.
"I would ask if anyone in the community has any information or witnessed events on Saturday 10th November to contact police on 101," he added.