Rhiannon wind farm: Plans on show in Amlwch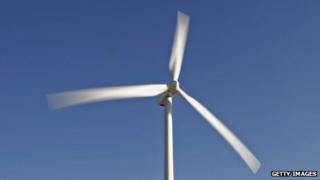 Proposals for a massive offshore wind farm in the Irish Sea are being shown on Anglesey.
The proposed Rhiannon wind farm, between Anglesey and the Isle of Man, could see up to 440 turbines built.
The initial proposals from Celtic Array were submitted to the UK government in the summer.
The first public exhibition takes place on Friday at Amlwch Memorial Hall before moving to other locations in north Wales until 28 November.
The Rhiannon wind farm would be around 19km (12 miles) north-east of Anglesey and cover an area the size of the island.
It is one of a dozen sites around the UK where offshore wind farms could be built in the next 10 years.
The developer is Celtic Array, formed by Centrica - which owns British Gas - and Danish firm Dong Energy.
Constraints
First announced in January 2010, the project would feature between 150 and 440 turbines and could generate up to 2.2 GW of electricity, or enough to meet the needs of around 1.7 million homes.
Two years of assessment have already been completed to understand the physical, environmental and engineering constraints of building out in the Irish Sea.
If the planning inspectorate gives permission, construction could start in 2017.
National Grid is currently consulting on plans to develop its network to carry electricity from the proposed wind farm and the planned new nuclear power station at Wylfa on Anglesey.
Among the proposals are a new overhead connection across Anglesey and the Menai Strait, maximising use of existing network on the mainland, and replacing three underground cables in the Glaslyn estuary with 12.
The wind farm proposals go on show at various locations across Anglesey:
• Amlwch Memorial Hall - 16 November - 11:00 to 19:00 GMT
• Beaumaris Town Hall, Beaumaris - 19 November - 11:00 to 19:00 GMT
• Bangor University, Main Hall, Reichel Building - 20 November - 11:00 to 19:00 GMT
• Conwy Civic Hall - 21 November - 11:00 to 19:00 GMT
• Colwyn Leisure Centre, Eirias Park, Colwyn Bay - 23 November - 11:00 to 19:00 GMT
• Holyhead Town Hall - 24 November - 10:00 to 15:00 GMT
• Venue Cymru, Llandudno - 26 November - 11:00 to 19:00 GMT
• Tynewydd Centre, Rhyl - 27 November - 11:00 to 19:00 GMT
• Oriel Ynys Mon, Llangefni - 28 November - 11:00 to 19:00 GMT