Nine student climbers lost on Idwal Slabs in dark are rescued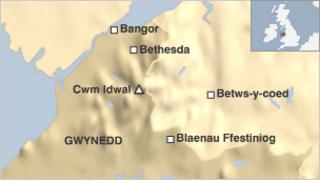 Nine student rock climbers called for help after reaching the top of their climb in Snowdonia but were unable to find the path back down.
The University of Leicester group scaled Idwal Slabs on Saturday but darkness fell during the climb.
Ogwen Valley and RAF Leeming mountain rescue teams were called out at about 18:30 GMT.
They lowered the group some 20m (65ft) down the rock face to pick up the path down the Glyders mountain range.
The operation, which involved 19 Ogwen rescue team members, took around four hours according to the rescue team's spokesman Chris Lloyd.
He said the stranded group were well-equipped for rock climbing but were not familiar with the location of the path once the climb was finished.
He said: "If you don't know where the footpath is, it's very difficult to find. It's still a bit of scramble, you have to go up maybe 200ft.
"They were struggling to find the way off and and as a group they decided to call for assistance.
"It was a wise call, especially with new students. If you are unsure, it's much better to make the 999 call than have someone have an accident."