Police commissioners: Views of young in north Wales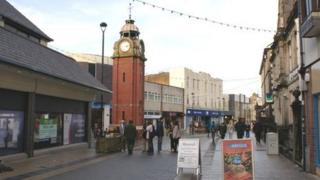 With elections for the new Police and Crime Commissioners on Thursday, we are looking at aspects of modern policing.
Bangor hit the headlines in June over North Wales police plans to use dispersal orders to prevent people causing trouble in the city centre.
However, it led to a misunderstanding as some believed it was a curfew which effectively banned everyone under the age of 16 from the city centre after 9pm, unless accompanied by an adult.
North Wales Police were quick to point out that was not true and it would not apply to all youngsters, but instead only those who cause trouble.
It was the sort of incident which affects the perception of how the police operate, and something a new Police and Crime Commissioner might well want to get involved in.
Five months on, some confusion remains about the dispersal order, according to Elen Clampitt, a teacher in one of the city's secondary schools, and who is behind the Bangor Youth Group (BYG).
"I've heard reports of children hiding in bushes when they see the police coming in case they are picked up," she said.
BYG's ultimate aim is to establish a youth cafe/dry pub in the Gwynedd town so that young people have somewhere safe to go to socialise and gain access to skills and opportunities they might otherwise not have access to.
BYG now has a small group of volunteers who will mentor other young people to get involved and who organise events at various venues, until funding for a cafe building can be found.
A recent open mic alcohol-free night at a local cafe for all ages attracted talent ranging from a drum soloist to a Monty Python sketch.
She said police did not deal with well was the misunderstanding about the dispersal order, although the local Police Community Support Officer is supportive of BYG and attends their events.
'City up in arms'
"Here was a city up in arms [about the dispersal order] and the police needed to explain to the kids what it really involved. They should have put in the time and effort to explain," she said.
The police commissioner should be a proper link between the police and the whole community, she feels.
"It's a £70,000 post and for that I want to see him take a hands-on and innovative approach to finding out the views of the community."
Loui Milne, 19, and Natalie Gray, 19, say they plan to vote on Thursday - although both say they are concerned they know very little about the new commissioner role.
"I have mixed views about the police as I think how you are treated depends on where you are from and what you look like," said Loui.
The electric guitar tutor volunteers with the Bangor Youth Group and the Maesgeirchen Youth Club in the city, and says he feels "things need to change, but I'm not sure anything will".
Both Loui and Natalie agree police should be tougher on anti-social behaviour, but are sceptical about how that might happen.
"I try and avoid going out in the city centre at night even when I'm with a group of friends, because I feel quite scared walking down the high street," said Natalie, a newly qualified hairdresser.
"I've come out of a club in the bottom of town and a fight has broken out, you have a couple of bouncers and two police cars turn up.
"But it's four of them and about 30 people fighting and there's not a lot they can do."
'Bogged down'
Ysgol Friars sixth form pupil Erin Devine, 16, is concerned however that a new commissioner might become bogged down in single issues.
"If I could vote I wouldn't go for someone who focuses on one thing as crime changes all the time," she said.
"Caernarfon and Bangor are close to each other but are completely different and this needs to be taken into account," she added.
Loui and Natalie both agree that any commissioner needs to be accountable to the people he or she serves.
"I'd like some kind of contract in place that says if promises are not kept by a certain time then they're sacked," added Loui.
A North Wales Police spokesman said no figures were available on how many times the dispersal notice had been used in Bangor and the force would not comment on its progress until the end of the year.