Pacific Ocean rescue: Concern of Stephen Jones's family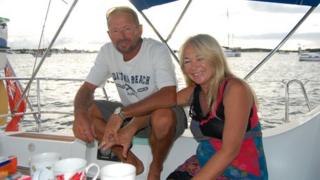 The family of Welsh sailor Stephen Jones say they are waiting to speak to him after his Pacific Ocean rescue.
But Stephen Jones's mother Elizabeth says she fears the sailor has now lost everything he owns in the incident.
The 52-year-old from Llandudno Junction was stranded with his partner Tanya Davies, 43, some 700km (435 miles) off Tonga, after their yacht overturned.
The pair were left drifting for two days in rough seas before being taken onboard a tanker.
"We just didn't know what was happening. We knew that there was a chance that the boat was going to sink and they would go down with it," said his mother.
"We are just worried for him now, because he has nothing. Everything he had was on that yacht."
Mrs Jones said her son, who had been living in Australia, sold up three years ago, so he could take the 38ft (12m) yacht Windigo around the world.
"He left Australia and bought this yacht to live his dream and sail around," said his mother.
"He's been around the Caribbean, all the Caribbean islands, he's been through the Panama Canal and everything, and was on his way to New Zealand."
Mrs Jones said the sailor's family were still waiting to speak to him after his ordeal.
"We had a message from Tanya's mother and we also had the coastguard ringing to say that they had been rescued," explained Mrs Jones.
"We do know that Tanya has spoken to her mother in New Zealand and they are okay.
"There are no serious injuries. They have both had cuts... on their heads, and he has also injured his back - but it's not serious."
The Rescue Coordination Centre New Zealand (RCCNZ), said the couple were finally brought aboard the cargo ship Chengtu at 9am New Zealand time, where they were receiving a medical check up.
The Chengtu is now heading south to rendezvous with the navy vessel, HMNZS Otago.
Keith Allen of RCCNZ paid tribute to the efforts of the Chengtu, the yacht Adventure Bound, which had been in the area overnight, and the Royal New Zealand Air Force (RNZAF).
Its pilots made three flights to the stricken yacht, while an aircraft from the French navy also made two trips from the Pacific island, Noumea.
Mr Allen said: "This is the outcome we have been working towards since the emergency beacon was activated on Wednesday afternoon.
"It is the result of an excellent coordinated effort involving the RNZAF, which provided a link for the two people on the Windigo when there was no other means of contact, and the Navy, and I would also like to express my appreciation to the captain of the Chengtu and the crew of the Adventure Bound for their efforts."