Gwynedd council to lend up to £30,000 mortgage deposits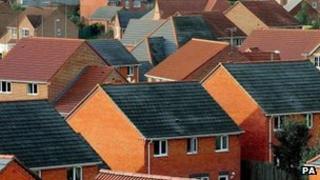 Local first-time house buyers could be entitled to borrow up to £30,000 from Gwynedd council towards a mortgage deposit under a new scheme.
The council has set aside £800,000, which it hopes will bring vacant properties, worth up to £150,000, back into use.
Successful applicants will not have to repay anything for five years, during which the loan is interest free.
The initiative has been welcomed by the Chartered Institute of Housing (CIH).
The council's First Time Buyer Mortgage Deposit Loan Scheme allows people to apply for a deposit loan of a maximum of £30,000 against a property worth no more than £150,000.
Offers will be subject to conditions and the scheme is open to people who fulfil strict criteria, including having lived or worked in Gwynedd for five years continuously, and providing 5% of the purchasing costs themselves.
The loan will be repayable after the first five years with a charge of 4% above the Bank of England base rate and has to be repaid within the following five years.
Gwynedd council says 75% of the reserved funding will be used to try and bring vacant properties into use, with the remainder "available for the purchase of non-vacant affordable properties".
Cllr John Wyn Williams, Gwynedd's cabinet member with responsibility for housing, said ensuring good quality, affordable homes for local people was a "priority".
He added: "We hope that this innovative scheme will not only return empty properties into use but will also help to deliver quality homes for Gwynedd residents."
Julie Nicholas, CIH policy and public affairs manager, said first-time buyers in Wales faced a "quadruple whammy of increasing private sector rents, substantial mortgage deposit requirements, increasingly strict lending criteria and higher interest fees than for existing mortgage customers".
She added: "CIH Cymru believes that this scheme is an excellent example of how a local authority can both assist first-time buyers and help reduce the wasted resource of empty properties."
Applicants should register their interest by 15 November.
The scheme is separate to a mortgage guranantee initiative backed by the Welsh government, designed to help first-time buyers and those wanting a bigger home.