Wylfa construction workers' homes planned in Penrhos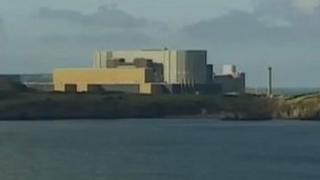 Plans to house up to 2,000 construction workers for the building of a new nuclear power station on Anglesey will be presented to the island's council.
Cumbria-based Land and Lakes Ltd has plans for a 29-acre site at Penrhos near Holyhead and 360 more houses at a nearby site at Kinglsand.
The firm say the development would be converted into a holiday village of 315 units once the power station was built.
Up to 6,000 jobs could be created while the new reactors are built at Wylfa.
The site was one of a number which was shortlisted for a new nuclear power station last year.
But in March this year, the two German companies behind the Horizon project - E.ON and RWE - announced they were pulling out.
Project takeover
They blamed the global economic crisis and Germany's decision to phase out nuclear power in the aftermath of the Fukushima accident in Japan.
They have now sold the project to the Japanese company Hitachi for about £700m.
As well as the Wylfa plans, the deal also includes proposals for a new nuclear power station just over the Welsh border at Oldbury, in South Gloucestershire.
Welsh Secretary David Jones called it a "huge boost" while First Minister Carwyn Jones said it was "very good news for Wales and the UK".
Plans for a leisure resort on the land at Penrhos, which is owned by Anglesey Aluminium Metals, was first mooted last year.
The former smelting works closed in 2009 and the site is for sale with offers invited in the region of £10m.
It is currently run as a country park.
The plans have been generally supported by town councillors, but some local campaigners have opposed the development.