Himalayan balsam 'colonising' Cors Llyferin wetland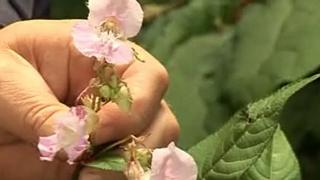 Action is being taken to remove an invasive, non-native plant which is threatening plants, insects and wildlife at a wetland site in Gwynedd.
Large, dense patches of Himalayan balsam are "colonising" the Cors Llyferin site of special scientific interest in Abersoch.
It was introduced as an ornamental plant from Asia in the early 19th Century but outgrows native species.
Environment Agency Wales officers have been working to clear it from the area.
A dense strand of the plant can produce over 30,000 seeds per square metre and its exploding seed pods can scatter seeds up to 7m away.
It can grow up to 10ft (3m) in height and can out compete and overshadow native plants which die from lack of light.
It was first identified at the golf club in October 2010, and has since spread between watercourses and into the wet woodland area, which is one of the main areas of interest at the site.
Where it has colonised, it is out competing native plant species such as grey willow and rare copper moss.
'Unique plants'
The wet woodland is also an important habitat for many species of insects and wildlife, which may also become threatened if the balsam is left unattended.
Environment Agency Wales is working with the landowners at Abersoch Golf club to clear the plant.
David Edwell, the agency's area manager for north Wales, said they had already removed large sections from the protected site, and aimed to have the whole site clear by the new year.
"Removing this invasive species is not only important for our native plants, but also for tourism and leisure, as the site is enjoyed by golfers and people who visit the site especially for its unique plants and wildlife," he added.
Since 2011 groups of volunteers have been working to clear the plant from parts of north Pembrokeshire.