Bangor Cathedral has first all-girl choir in 1,437 years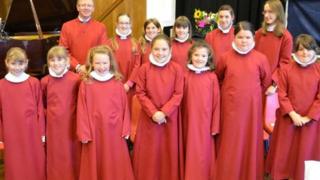 For the first time in 1,437 years Bangor Cathedral has an all-girls choir leading regular services.
From this week the girls' choir will take part in evensong every Monday.
The new choir has been introduced in line with equality rules, with many other cathedrals already allowing female members of choirs.
The Reverend Canon Robert Townsend, communications officer for the diocese, said it was purely a tradition that boys and men sang in cathedral choirs.
He added: "Choir people will tell you that you should not mix the voices of men and women, that you need purity.
"Until now we have recruited boys from local schools for the choir but decided that we can no longer do that and girls can have the same opportunity."
The 14 members of the new girls' choir are aged from seven to 17.
They are the first female singers to lead services at Bangor since the cathedral was established in the 6th Century AD.
Cathedral preceptor Rev Canon Michael Outram, whose role is to assist with choirs and music, said it was a great pleasure to have a girl's choir.
The dean of Bangor, the Very Rev Dr Sue Jones added many cathedrals in Great Britain have separate choirs for male and female voices.
"After 1,437 years, it marks the beginning of a new part of our choral tradition here," she said.
"It is a natural development that will help to ensure that both boys and girls will be in the choirs, which sing praises for many years to come," she added.
The girls' choir will sing at evensong in Bangor Cathedral at 17:30 GMT every Monday during term time.