William and Kate: 'Gunshot inquiry' near Anglesey home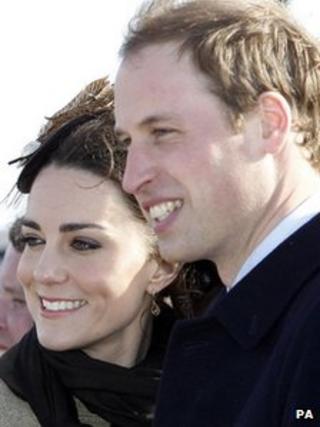 An investigation is under way after a police officer believed to be guarding the home of the Duke and Duchess of Cambridge accidentally fired a gun.
Scotland Yard has launched an inquiry into the incident on Anglesey on 24 October.
Nobody was injured when the officer, who was sitting in an unmarked car with another policeman, let off the shot.
The Metropolitan Police (MPS) said the officer concerned had been removed from firearms duty pending an inquiry.
The force was keen to stress that the officers were some distance away from the property at the time, and that no one else was at risk.
The duke, or Flight Lieutenant Wales as he is known in his capacity as an RAF search and rescue helicopter pilot, captains Sea King helicopters from his unit's base at RAF Valley, Anglesey.
Police would not confirm press reports that the duchess was at home when the incident happened, and that the duke was on duty at RAF Valley.
A Met spokesman said: "Shortly before 1pm on Wednesday October 24 an on-duty MPS police officer unintentionally discharged a firearm while in an unmarked police vehicle.
"The round damaged the floor of the vehicle. Another on-duty officer was in the vehicle at the time of the incident. Neither officer was injured.
"The officers were on duty in north Wales at the time."
Both the officers are attached to specialist operations, the Met said.
The spokesman said the Met's directorate of professional standards had been informed of the incident and the officer concerned had been removed from firearms duty pending the outcome of inquiries.
Former head of royal protection Dai Davies told BBC Wales it was "extremely difficult" for a gun to be fired accidentally.
"The training is fairly rigorous as you would expect, particularly for royal protection," he said.
"These people carry guns day in day out, discreetly.
"One of the key things to being selected is to pass a rigorous firearms and psychological test to ensure those charged with protecting the royal family are up to it in every single way.
"Over the years, once or twice, accidents do happen."
Mr Davies said human error was a more likely explanation than a malfunctioning weapon.
"Either the safety catch wasn't on or, for some reason, the officer put his finger on the trigger and pulled it because, frankly, that's the only way I know a bullet can be discharged," he said.
He said the question would be asked whether the officer is "fit" to carry firearms because "the consequences could've been quite serious".
A Clarence House spokesman said he could not confirm where the incident had taken place, saying it would have to be handled by the Metropolitan Police.