Eirias school hacking accused Matthew Higgins was 'bullied'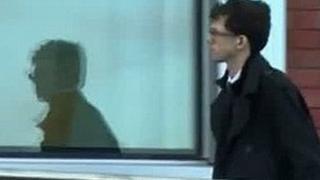 The father of a sixth-form pupil accused of hacking into a school computer told a jury his son had been bullied and physically hurt.
Matthew Higgins, now 20 and at university, denies securing unauthorised access to computer data at Eirias High School, Colwyn Bay.
Jason Higgins, a police inspector, told Caernarfon Crown Court the head teacher appeared to have emailed his son.
He told his son to contact the police, fearing he was being targeted.
"I said, 'someone is trying to get you into trouble, the police need to know'," Mr Higgins told the court.
His son went to school early and showed the email to staff.
He also called the police.
Mr Higgins said: "My concern was that Matthew had been targeted at school, subjected to quite a lot of bullying.
"I believed this particular stunt had been pulled to target Matthew."
Mr Higgins said the family's relationship with the school had deteriorated during the last couple of years his son was at the school.
"It was a very, very good school but unfortunately Matthew started to suffer bullying and that is what led to the breakdown of the relationship with the school," he said.
He alledged some of the bullying led to physical injury and in December 2010 his son was operated on for a collapsed lung.
Earlier, Matthew Higgins denied sending a fake email requesting a new password to access a girl's details.
He said he could not have accessed her account as he was in school.
The prosecution has claimed he obtained the girl's details and then boasted about it on a hackers' forum.
School reported
Mr Higgins told the court on Thursday that he "had never sent a spoof email".
The prosecution also claims an email in the false name of a woman was sent to Welsh assembly member Darren Millar saying the school's system had been breached.
Matthew Higgins said he was not responsible and it had been publicly known in January last year that the school had been reported to the information commissioner.
He has pleaded not guilty to unauthorised access into the school system in March last year, and attempting to gain access two months later.
On the day he was alleged to have accessed the girl's account, he said he was in school from 8.30am until after 3pm, taking a vital biology exam.
He said he would have been unable to use his computer, and maintains he was set up with fabricated evidence.
The trial continues.