Wylfa nuclear plant: Hitachi officials visit Anglesey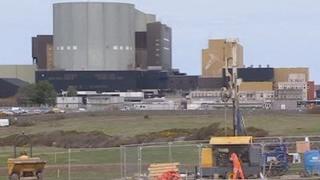 Officials from Japanese firm Hitachi have visited Anglesey after taking on a project to build a new nuclear power station on the island.
The Horizon development aims to build a £8bn replacement for the Wylfa plant.
Up to 6,000 jobs could be created while the new reactors are built.
The officials met local groups and politicians in Llangefni after the announcement of the £700m deal which includes a plan to build a nuclear station at Oldbury, Gloucestershire.
But UK or Welsh politicians could not guarantee that most of the projected 6,000 new jobs would be local to north Wales.
Hitachi officials were shown around Coleg Menai's campus at Llangefni - one of the local colleges which could be used to train future workers for Wylfa.
Tatsuto Ishizuka, of Hitachi, confirmed some skilled workers from Japan would be employed there as well.
Welsh Secretary David Jones said it was a commercial decision for Hitachi how many locals would be employed.
Welsh Business Minister Edwina Hart mentioned the need for new housing, further underlining the likelihood that people from outside north Wales could be among the workforce if work on the power station started in three or four years time.
Anglesey council leader Bryan Owe organised Wednesday's meeting, which was also attended by Horizon chief operating officer Alan Raymant.
Mr Raymant said: "We were delighted to be able to introduce our new owners to local stakeholders, who have been so supportive of Horizon over recent months.
'Lasting economic legacy'
He said Hitachi had laid out its initial approach to "engaging local suppliers and training local workers, working with Horizon to deliver a lasting economic legacy in north Wales".
Mr Jones said Hitachi's investment would come as very welcome news.
"I have seen first hand the many advantages Anglesey already has to offer in relation to new nuclear build - both in terms of the excellent skills set which already exists amongst the Wylfa workforce, and how we're investing in our young people through Coleg Menai's energy centre.
"Today, the investors and I have seen how the centre is making its own important contribution to the growing energy sector.
"It provides important learning opportunities for young people that will help meet the future skills needs of not only the new development at Wylfa, but also of other low carbon energy projects which we hope will be established on Anglesey."
Wylfa was one of a number of sites shortlisted last year for a new nuclear power station to replace its ageing Magnox reactor.
But in March this year the two German companies behind the project - E.ON and RWE - announced they were pulling out.
They blamed the global economic crisis and Germany's decision to phase out nuclear power in the aftermath of the Fukushima accident in Japan.
There is some opposition to nuclear power on Anglesey and there is likely to be controversy as other countries reconsider their nuclear power plans in the light of Fukushima.
Several years gap
Richard Foxhall, the stakeholders relations manager for Horizon, told BBC Radio Wales that workers welcomed the news.
He added that the workforce was "bursting" to find out the plans for the future.
However, there will be a gap of several years between the old plant stopping producing electricity and the new one becoming operational.
The existing Wylfa plant, which has been producing energy since 1971, is set to continue generating electricity until the fuel runs out or September 2014, whichever comes first.
The Horizon project under E.ON and RWE expected Wylfa B to start producing electricity around 2020 but Hitachi's plans now mention "the first half of the 2020s".