Llandudno railway station: Detailed design work starts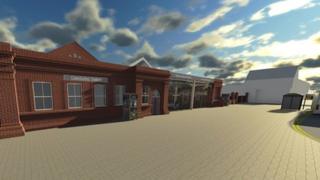 Detailed design work is starting on a £5m scheme to refurbish Llandudno railway station.
Revamp work includes a new frontage, a ticket office, improved bus facilities and customer information systems.
Construction work was due to have started in the summer, but is now expected to get underway early in the new year.
The scheme, which also includes toilets and a new 50-space car park, is set to be completed in early 2014.
Llandudno station was built in 1892, but is run down and partly derelict. Its Victorian ironwork is rusting and its platforms are stripped of shelter.
Transport Minister Carl Sargeant said the upgrade was the first in a number of station improvements the Welsh government was supporting.
Officials said outline design work had been completed and detailed design work was starting.
Mr Sargeant said: "The upgrade of Llandudno station is the first in a number of station improvements that the Welsh government is supporting as we strive to make rail travel more comfortable and attractive to the public."
"In addition to providing a positive first impression for visitors to Llandudno this project will also provide a boost to the local economy as local employment will be used in the refurbishment of the station."
The station was built in 1858, and is used by about 270,000 passengers each year.
The new station frontage will be in keeping with its Victorian architecture.
Network Rail will manage the refurbishment on behalf of the Welsh government.
'Proud'
Mark Langman, Network Rail's Wales route managing director, said: "I am delighted that the funding package has been secured for this very important project to enhance Llandudno station.
"The project will regenerate and revitalise this area of the town, encouraging locals and visitors to use public transport through the provision of updated and enhanced facilities.
"We are looking forward to completing the project in 2014 and to handing over to Arriva Trains Wales and the local community a station of which they can be proud."
The Welsh government and European Regional Development Fund has given the project £3.5m.
The Department for Transport's national stations improvement programme has awarded the scheme £1.5m and a £150,000 has come from the Railway Heritage Trust.
The Welsh government said Mr Sargeant would be announcing other station improvements around Wales shortly.