Eirias High School head denies 'tricking' pupil accused of hacking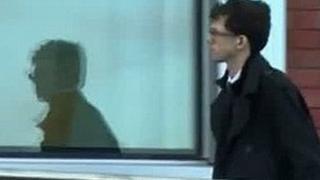 The head teacher at a school in Conwy has denied trying to trick a sixth form pupil who is accused of hacking into the school's computer system.
Matthew Higgins, now 20 and a university student, denies securing unauthorised access to computer data at Eirias High School, Colwyn Bay.
Mr Higgins maintains he was set up with fabricated evidence.
Head teacher Phil McTague denied the school closed its mind to anyone other than Mr Higgins being responsible.
The prosecution claims that the pupil boasted on a hackers' forum about gaining access and had sent fake emails.
Mr McTague told Caernarfon Crown Court: "There had not been entrapment.
'Attack'
"We felt our system was under attack."
He agreed that on the day in March when the details of a female pupil were accessed, Mr Higgins would have been taking a biology exam, but thought it likely to have ended by mid-afternoon.
Mr McTague rejected a suggestion that the school had closed its mind to anyone other than Mr Higgins being responsible.
Owen Edwards, prosecuting, told the jury there were two possible scenarios.
He said either Mr Higgins was responsible and had created emails to himself aimed at obscuring the fact, or that he himself was a victim of a fraudster "behind the whole thing".
Mr McTague said: "I tried to keep an open mind until we had independent, verifiable evidence."
The trial continues.