Pawb anti-nuclear campaign: Britain is 'odd man out'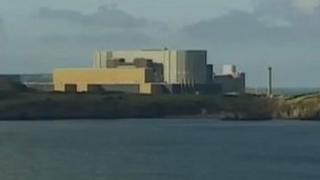 Opponents to plans for a new nuclear power station on Anglesey say the Fukushima disaster has left Britain "the odd man out" as other countries shun this form of energy.
The People Against Wylfa B (Pawb) campaign group said the crisis in Japan last year had led to governments asking if the health and environmental risks were worth it.
All 50 of Japan's nuclear plants were shut after the Fukushima meltdown, which was triggered by a tsunami and earthquake, and only two have since resumed operations.
Dylan Morgan of Pawb said several other countries, including Germany, were also turning their backs on nuclear power.
But while some governments may have their doubts, Tuesday's news that Japanese company Hitachi is to buy nuclear project Horizon - building new reactors at Wylfa and Oldbury, Gloucestershire - largely met with a positive response in the corridors of power in Wales and the rest of the UK.
Mr Morgan said this put Britain at odds with many other countries.
"Why should we here take the risk - the health risks, the environmental risk - of nuclear power when Japan itself is turning its back on nuclear power, bowing to public pressure following the Fukushima disaster?" he asked.
He said he did not want what he called a "Wylfashima" on Anglesey.
"If things go wrong with nuclear power, they go terribly terribly wrong," he said.
"Over 100,000 people have had to be evacuated from the Fukushima area with no immediate prospect of them to be rehomed."
He said there had been on average one nuclear accident every 11 years and there were over 400 nuclear reactors worldwide.
'Natural disaster'
However Keith Parker, chief executive of the Nuclear Industry Association, said it was misleading to draw parallels between Fukushima and the proposed new plant at Wylfa.
"[Hitachi] has an extremely good record in building nuclear power stations," he said.
"They've built four of the ABWRs [advanced boiling water reactors] - the designs that will be built at both Wylfa and Oldbury - in Japan to time and on budget so I think the track record speaks for itself.
"Fukushima, you must understand, was a 40-year old reactor.
"There have been immense strides forward in terms of reliability and the incorporation of advanced safety features in the new reactors which have also been licensed by three separate national regulators in Japan, Taiwan and the USA."
He said Fukushima was was an "unprecedented natural disaster with an earthquake and a tsunami" which was not likely in the UK.
Anglesey council leader Bryan Owen admitted to reservations but said Hitachi's move was "excellent news" for the island.
"Wylfa has been here for 50 years and it's worked well and people on Anglesey have grown up with a power station... and it's been a really good employer on the island," he said.