E.coli outbreak at Cantref Adventure Farm, Brecon over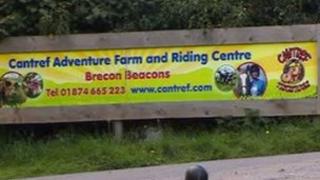 Health officials say an E.coli outbreak linked to a Powys petting farm has been declared over after no new cases were reported.
Two children, one from Ceredigion and one from Kent, visited Cantref Adventure Farm in Brecon in September and contracted E.coli 0157.
Three family members of the infected children also tested positive.
But Public Health Wales (PHW) say no new cases have been reported and the outbreak was over.
The farm had been advised to stop direct contact between animals and the public but this measure has been lifted.
E.coli O157 can cause severe diarrhoea, abdominal cramps and fever, and can cause fatal kidney failure in children.
The infected children are recovering at home.