Gwynedd council: Call to halt Betsi Cadwaladr shake-up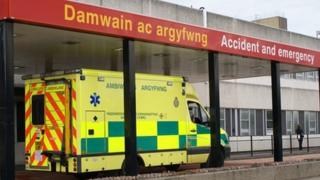 Gwynedd council leaders have urged that controversial plans to change health services in north Wales be put on hold.
The Betsi Cadwaladr University Health Board (BCUHB) has just ended a 10-week public consultation on changes including community hospital closures which have prompted local protests.
The council's cabinet said it was seeking clarification, fearing it could be left with additional costs.
But it admitted it had no authority over the health board's decisions.
The cabinet wants new services in place and plans financed before any changes are put into place.
In a draft response to the proposed changes, the cabinet says transferring services from hospitals to the community "raises the risk that additional financial implications will fall on the council".
"In undertaking substantial change there is a need to win the trust of Gwynedd inhabitants and ensuring that what is proposed establishes more sustainable services arrangements for the future," the draft says.
"It is requested therefore that the changes do not take place until new services are in place or plans approved and financed."
Following Tuesday's council meeting, cabinet member for social services and care Wyn Williams said: "We're very concerned about the [health board's] documentation.
"The working relationship between care and health is not clear, and if the health board is shutting down services what it is going to be put in their place?
No authority
"We have drawn attention to the weaknesses in a [health board] report and we're asking them not to make any changes unless the plans are known to the public.
"Until we receive clarification we urge the health board not to go ahead with its plans."
But Mr Williams stressed the council had no authority over the health board's final decision.
The Betsi Cadwaladr University Health Board has spent 10 weeks seeking views.
Under BCUHB proposals being put forward, Blaenau Ffestiniog and Flint community hospitals face closure, while complex neonatal intensive care would be moved to Arrowe Park in Wirral.
The Betsi Cadwaladr board consultation closed on Sunday.