Evening weddings: Conwy claims post-6pm milestone marriage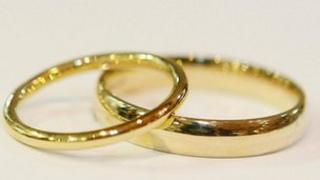 It has long been a bride's privilege to be late for her wedding.
But one lucky woman in Conwy will be getting hitched later in the day than anyone in Wales for 175 years.
She and her groom are taking advantage of a change in the law which now means couples can wed at any hour, rather than only from 8am to 6pm.
Conwy's registrar believes that Saturday's wedding at an unnamed hotel in the county will be the first in the evening in Wales since 1837.
The 8am to 6pm rule was introduced in the 19th Century to prevent secret weddings.
Conwy officials have checked with other local authorities in Wales and they believe the county will be the first to break new ground with evening nuptials.
"The act that dictates the rules of marriage dates back to July 1837," said a spokesperson for Conwy council.
"Previously, a marriage could only take place between 8am and 6pm, but now a marriage can take place at any time on any day - subject to approval by the local authority."
The names of the couple tying the knot in Conwy have not been publicly released, but the council did say they were getting hitched during a ceremony at a hotel after 18:00 BST.
Dave Rees, superintendent registrar for Conwy council, said most local authorities in England and Wales were "undecided" on whether to offer the service or not.
"However, I am pleased to say that Conwy will be conducting a marriage this Saturday.
Clocks back
"This will be the first marriage to take place after 6pm in Wales for over 175 years," he added.
The Church in Wales says it has not yet discussed if it wants to follow suit.
A church spokesperson said the 8am-6pm rule was originally put in place to prevent people getting married during the hours of darkness in order to cut down on the number of clandestine marriages.
"That is also the reason that the banns are read in church - they are read out three times so that the marriage is public knowledge," the spokesperson said.
"We, as a church, will have to decide if we want to change, but there are no plans to look at it yet."
More good news for the wedding party: they could even have an extra hour to celebrate, as clocks go back at 02:00 on Sunday to mark the end of British Summer Time.